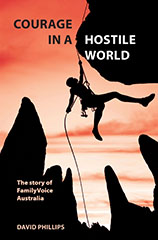 by David Phillips, 2014, FamilyVoice Australia, 274p.
David Phillips' account of the rise and reach of FamilyVoice Australia is a compelling history of a 40 year-long battle for the heart and soul of public morals in Australia. This is a great read and a great resource for all who seek for light and truth.
Mark Durie, vicar of St Mary's Anglican Church, Caulfield
Courage in a Hostile World appeals on a number of levels. It offers well-researched history; equally well-researched discussion; personal disclosure and practical inspiration.
Those interested in the issues will find plenty to sharpen their teeth; those interested in action will find much to motivate them; those interested in people will meet some wonderful, bold Christians.
Read more: Courage in a Hostile World: The Story of FamilyVoice Australia
by Ros Burnett (Editor), 2016 Oxford University Press, 368p.
This book fills a gap for an authoritative and considered text focused on false accusations of recent or historical abuse.
It brings together experts from different disciplinary backgrounds to consider ways of reducing the incidence of fabricated allegations and associated injustices.
While policies that address child abuse, rape and other sexual offences are most welcome, false allegations of such offences have become too common.
The recreational use of marijuana was legalised in Colorado USA in 2014. 
Now, five years later, hospital emergency rooms regularly see patients admitted for unrelenting abdominal pain, nausea and extreme vomiting - Cannabis Hyperemesis Syndrome (CHS).
Hospital toxicologist, Andrew Monte, says that sufferers are not helped by normal anti-nausea medicine.
The Borrowed Testimony that Convicted George Pell
On 11 December 2018 Australia's most senior Catholic, Cardinal George Pell, was found guilty of sexually abusing a 13-year-old choirboy and molesting his friend over thirty years earlier.
He was convicted on the basis of uncorroborated evidence of the alleged victim, in the face of contradictory evidence from witnesses who were with Cardinal Pell at the time.
The account of the events by the anonymous victim bear an uncanny resemblance to events in a case of child sex abuse in the United States that were given wide coverage in Australian media.
Could the uncorroborated evidence against Pell have resulted from the alleged victim confusing his memory of the reported US case with his own past?